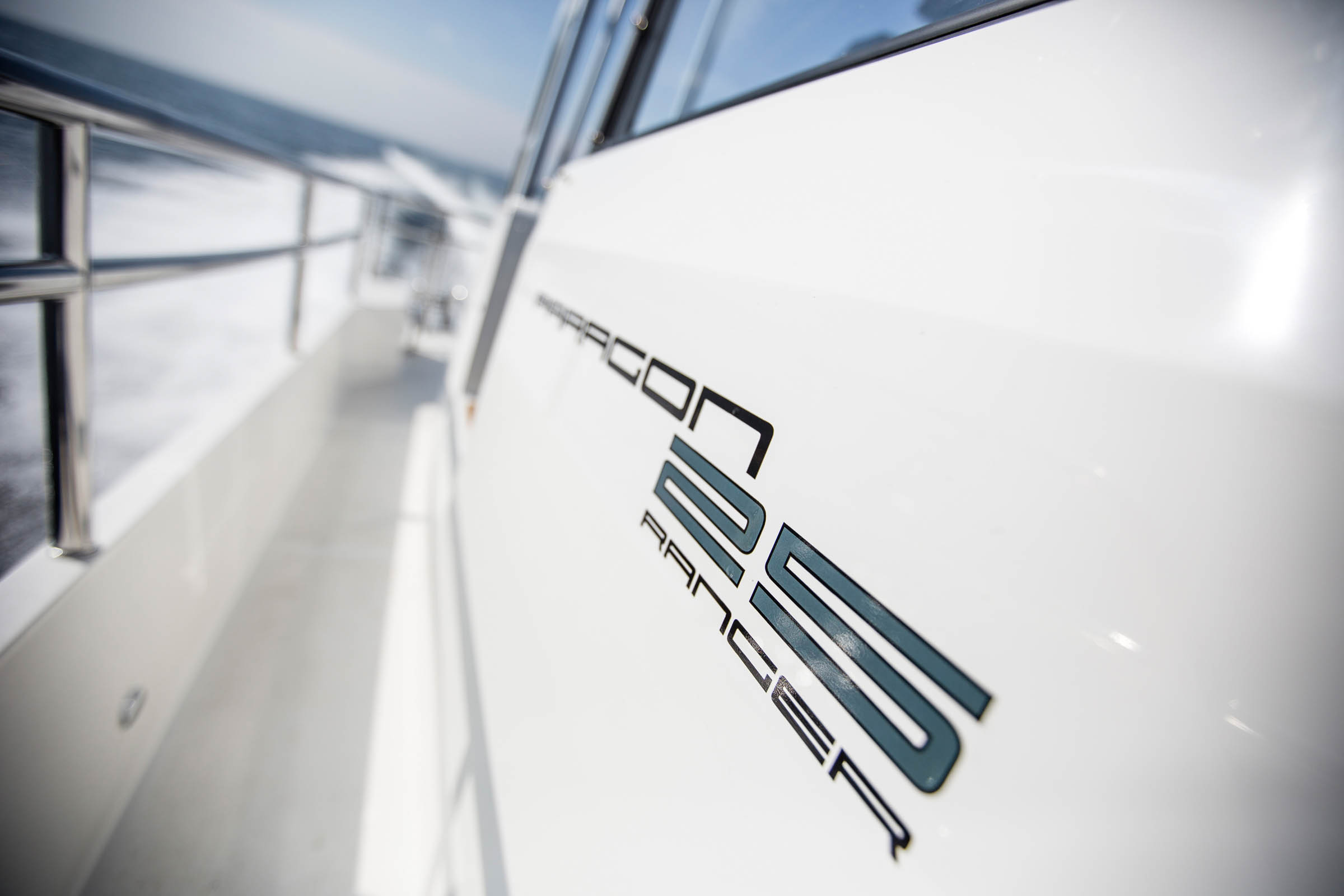 The new Paragon 25 hits British shores, fresh from winning the 'Motor Boat of the Show' award at the 2008 Helsinki Boat Show.
Size isn't everything. And this applies as much to boats as it does to anything else you may care to mention.
An overall length of 26'7" is by no means big in the world of sports cruisers; but then not everyone wants (or needs) the biggest boat he can afford. Many owners of large boats want to downsize these days, and equally many sailing boat owners want to change to power; albeit to handy and seaworthy power that can be used in any weather by a man and his wife. I was bowled over the first time I saw the striking looking new Paragon 25 at the Earls Court Boat Show in November this year. In fact I'd just bumped into David Hopkins, an experienced marine surveyor, old friend and owner of a Nimbus motor boat. And he said to me "You should go and look at the Paragon 25 on the Offshore Powerboats stand. It comes from the Nimbus stable. It's very different and a great piece of kit." So I did, finding it parked beside the pool and attracting a steady stream of visitors.
And Hopkins was right. The Paragon 25 is not 'just another' sports cruiser. Nor is it a RIB with a lid. It's unique and looks like a splendid combination of the two types. It really does represent a new type of motor boat. So when Boats and Yachts for sale asked me to visit Offshore Powerboats' Lymington base and put the Paragon through its paces, I jumped at the opportunity. Paragon Yachts Oy was founded a couple of years ago in Finland by Sakari Mattila (who had also previously set up Aquador Boats before selling the company to Bella-Boats Oy in the autumn of 2000). And his Paragon 25 got off to a spectacular start, winning the prestigious Motor Boat of the
Show Award at the 2008 Helsinki Boat Show. Conceived as a leisure interpretation of the rugged search and rescue boats used around northern Europe's coastlines in all weathers, the Paragon 25 was an instant hit. So much so that the long established Swedish company Nimbus Yachts has recently made Mattila an offer he could not refuse: and now owns the company. Which means that Paragon's new models will now benefit from the high tech development and tooling facilities to be found under Nimbus' roof; starting off with the bigger Paragon 31 due out in 2009.
There's no doubt about it; the Paragon 25 is a striking looking boat. It stood out from the crowd as I approached it along the pontoon at Lymington Yacht Haven. The superstructure –in the Targa mould but somehow more stylish – sits well on the 26'7" hull. And the hull itself has a slight and subtle 'whale back' sheer, which gives extra freeboard forward and sufficient volume to accommodate the forecabin down below. But the most obvious feature is the Paragon's RIB style collar that sits immediately beneath the substantial wrap-around rubbing strake. This is made from a closed cell compound called Nomalen that is covered in Hypalon ORCA material. So the collar can never be punctured. In extremis, it will protect the boat in the event of a collision and contribute 1,000 kg worth of buoyancy. But its main job is to provide a soft ride and extra sound insulation when the potent 26 degree deadrise hull is speeding into heavy seas.
In keeping with its intended role as a safe all-weather performer, the Paragon has wide and secure 'walk around' side decks and sizeable fore and aft decks. Clever sliding rails and opening side gates aft make boarding easy. And the finely executed teak decking gives this whole expanse of deck a classy look. What's more, a deep teak capped bulwark running round the boat means feet can not slip over the side and substantial stainless steel grabrails give one plenty to hang on to. In addition, carefully positioned hand rails on top of and on each side of the deck saloon mean that there's always something to grab. A lot of thought has gone into making the Paragon 25 an easy and comfortable boat to move around on, and it shows.